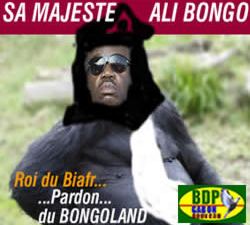 [1]Dans une lettre adressée le 30 juin à Hillary Clinton dans le cadre de la marche de protestation qu'ils préparent pour le 16 juin à Washington, des Gabonais demandent à la Secrétaire d'Etat américaine de retirer ses mots de soutien au dictateur gabonais Ali Bongo. Essentiellement, la lettre reproche à la Secrétaire d'Etat ses mots de soutien à Ali Bongo le 8 mars dernier lors d'une conférence de presse conjointe à Washington en marge de la session du Conseil de Sécurité dont le Gabon allait assurer la présidence tournante. La lettre lui demande de retirer ces mots que les Gabonais trouvent contradictoires au vu du fait que le Congrès américain venait de mettre en cause Ali Bongo et son père pour enrichissement illicite et détournement massif de biens publics. La lettre cite également les rapports annuels du Département d'Etat sur les droits de l'homme au Gabon, rapports qui présentenet le Gabon comme un pays dominé par une présidence forte et dont le peuple est dans l'incapacité de changer ses dirigeants et accuse le pays de se livrer au trafic humain. La lettre demande en outre aux Etats-Unis de ne plus recevoir Ali Bongo dans le cadre de visites officielles.
Voici le contenu de la lettre en anglais:
---
Hillary Rodham Clinton
Secretary of State
U.S. Department of State
2201 C Street NW
Washington, DC 20520
Wednesday, June 30, 2010
RE: July 16 Protest at State Department and White House, and Request to Renounce and Revoke Words of Support to the 43-Year-Old Bongo Dictatorship in Gabon
Dear Madam Secretary of State:
This letter is to inform you that the Gabonese community residing in the United States is planning a demonstration at both the State Department and the White House on Friday, July 16 beginning at 10:00am. We are protesting your words of support to the 43-year-old Bongo dictatorship in Gabon. We are also respectfully asking that you revoke and renounce your words. It is our opinion that your blunt and enthusiastic words of support to the Gabonese dictator not only showed poor judgment, but may have equally, in fact, caused irreparable harm to any prospect of Gabon ever engaging on a path to real and sustainable democracy.
Madam Secretary of State:
During your joint press conference with the Gabonese dictator at the State Department on March 8, 2010, the Gabonese community in the United States as well as the Gabonese people both within Gabon and around the world were not only deeply scandalized and troubled, but also disappointed and shocked by the words of support you expressed to Ali Bongo Ondimba when you declared:
That you are "very supportive of Gabon's efforts to diversify its economy, widen the circle of prosperity, and create new opportunities for its people."  
That you know President Ali Bongo is aware of the fact that "economic progress depends on responsible governance that rejects corruption, enforces the rule of law, provides good stewardship of natural resources, and delivers results that help to change people's lives for the better."
That you "recognize President Bongo's efforts to improve government efficiency, eliminate waste, and fight corruption," and "stand ready to support Gabon as it further strengthens its democratic institutions and processes."
And that you "applaud the leadership that Gabon has shown in combating human trafficking."
We find such statements and assertions of support for a corrupt and despotic regime very problematic, and we profoundly disagree.
And so, with all due respect, Madam Secretary, we are wondering where you found the evidence that allowed you to believe that the Bongo regime now led by Ali Bongo after his father died in June 2009 was engaged in any effort to diversify Gabon's economy, create new opportunity for its people, improve government efficiency, eliminate waste, fight corruption, and widen the circle of prosperity? We are also wondering where exactly you found evidence that Ali Bongo, and his father before him, were aware that economic progress depends upon responsible governance that rejects corruption, enforces the rule of law, provides good stewardship of natural resources, and delivers results that help to change people's lives for the better?
As far as we know, Madam Secretary of State, despite Gabon having one of the highest per-capita incomes in Africa as an oil-rich country with just over a million people, an income which the CIA World Factbook rates at close to $14,000 (many times higher than those of China and India), 60% of its people still live under the poverty line. Worse, the country lacks basic infrastructure in the form of decent hospitals and roads, basic medical service to the people is inexistent and one in ten children does not live beyond his/her fifth birthday. Meanwhile, the Bongo family owns 39 properties in France worth $200 million, including 70 bank accounts and million-dollar collection automobiles. This is in France alone. And as if this were not enough, Ali Bongo as recently as May 2010 acquired a private luxury hotel in Paris valued at 100 million Euros ($123 million).
If anything, thus, Madam Secretary, the circle of prosperity you are talking about has, for 43 years, remained limited to the Bongo family and clansmen, and the opportunities you are talking about have nowhere materialized for the rest of the nation.
Madam Secretary of State, your meeting with Ali Bongo Ondimba on March 8 of this year constituted an unacceptable move by the United States, as you basically condoned the reign of dictatorship in Gabon and the continuation of human right abuses in a country that has now been ruled by the same family for 43 years. In fact, with Ali Bongo succeeding his father following rigged elections on August 30, 2009, Gabon is now in a situation where it will potentially be ruled by the same family for more than 73 years. Omar Bongo reigned for 42-years since 1967 and, with no statutory nor constitutional limitation to his inherited presidency, his son Ali Bongo is also poised to reign for life. With the media, the army, the treasury, the parliament and the courts firmly under the control of the presidency, it is unlikely real democracy will ever be established in Gabon with the Bongo family in power. Ali Bongo is certainly young enough to stay in power for the next 30 years. This would usher the Republic of Gabon into an era of quasi monarchical rule by the same family and nothing guarantees that Ali Bongo will not, in turn, as his own father did, prepare one of his own sons for succession to ensure that Gabon continues to remain the private property of one family.
Yet, we are surprised, Madam Secretary of State, that you chose to ignore the fact that in its very own annual reports on Human Rights in Gabon, the State Department's own Web site has consistently described Gabon as a country "dominated by a strong presidency and the Gabonese Democratic Party (PDG), which has held power since 1968." The reports have further described the country as one in which the "human rights record remained poor,» with "limited ability of citizens to change their government; use of excessive force, including torture toward prisoners and detainees; harsh prison conditions; arbitrary arrest and detention; an inefficient judiciary susceptible to government influence; restrictions on the right to privacy; restrictions on freedom of speech, press, association, and movement; harassment of refugees; widespread government corruption; violence and societal discrimination against women, persons with HIV/AIDS, and noncitizen Africans; trafficking in persons, particularly children; and forced labor and child labor."
We are also surprised that you chose to ignore the very recent findings by the United States Senate's Permanent Subcommittee on Investigations (http://levin.senate.gov/senate/statement.cfm?id=322089 [2]) which implicated Ali Bongo in various corruption scandals. The U.S. Senate, in its February 2010 report, found that in 2006 Mr. Ali Bongo, when he was still Gabon's defense minister, had given $25 million of the country's money to his now former wife Inge Collins Bongo for the purchase of a $25 million mansion in Malibu, California. In 2006 also, the U.S. Senate adds, Mr. Ali Bongo and his father Omar Bongo "hired a U.S. lobbyist, Jeffrey Birrell, to buy U.S.-made armored vehicles and to obtain U.S. government permission to buy six C-130 military cargo aircraft from Saudi Arabia to support his regime." And as recently as May 2010, a Malta-based newspaper, Malta Today, reported that the Maltese government had found an account containing 7 million Euros (close to $9 million) belonging to the deceased President Bongo. This represented, it appears, the unused balance of the misappropriated funds from the above failed military purchase deal.
This 2010 report by the U.S. Senate echoes the 1999 findings by the same Senate Permanent Subcommittee on Investigations, which had revealed that Omar Bongo was depositing huge amounts of Gabon's money (some $130 million) in accounts held at the Citibank of New York. These sums were for personal use and had apparently been illegally siphoned out of the country's treasury. Various other inquiries have determined that Omar Bongo often illegally allocated himself close to 10% of the Gabonese budget annually, and was receiving annual bribes of 50 million Euros ($68 million) from the French oil company Elf-Aquitaine in exchange for their right to export Gabon's oil. In 2005, Omar Bongo even paid Jack Abramoff, a now convicted U.S. lobbyist, $9 million for the opportunity of a photo op with George W Bush.
The U.S. Senate's 2010 report is not, therefore, mincing its words when it describes Ali Bongo and his deceased father in the following terms: "Omar Bongo, President of Gabon for 41 years until his death last year, and his eldest son, Ali Bongo, Minister of Defense until he took his father's place as President of the country […] are notorious for accumulating massive wealth while in office in a country known for poverty." The system of corruption and money laundering which Ali Bongo inherited from his father is still pretty much intact.
Dear Mrs. Secretary of State,
We, the Gabonese people, find it very offensive that you, the Secretary of State of the United States of America, should set aside not only the Congress of The United States' findings, but also your own State Department's human rights reports on Gabon to honor a man who, in complicity with his father, has for years destroyed the Gabonese potential and soul. We also object to the tendency by democratic and developed nations to patronize Africa by making certain practices acceptable simply because "it is Africa." If human right abuses and the fact that a president should stay in power for 42 years are behaviors that are unacceptable to the people of the United States, then such practices should be considered unacceptable in Africa as well. Democracy should not be a matter of negotiation or choice. It should be the rule, even in Africa. As President Obama said during his July 2009 visit to Ghana, "Africa doesn't need strongmen, it needs strong institutions." Gabon's institutions do not exist. They are all subject to the rule and dictate of one man. This must change. 
We believe it is time, Mrs. Secretary of State, America upheld true democratic principles by refusing Ali Bongo the honor of any further official visit to the United States. He should therefore be declared persona non grata and banned from ever meeting again with any U.S. official, including the President of the United States, until such time as Gabon is returned back to, at least, the 1991 Constitution, and free and fair elections are held that will bring to power a legitimate president chosen and trusted by the people. This is especially important as Barack Obama is currently planning an August meeting with African presidents. Ali Bongo should not be invited.
Sincerely,
The Protest Organizers:
Dr. Daniel Mengara
President of "Bongo Doit Partir" (Bongo Must Go)
Associate Professor of French and Francophone Studies at Montclair State University, New Jersey, USA

Mr. André Bouassa
U.S. Representative and Spokesperson for "Union du Peuple Gabonais" (UPG; main Opposition Party in Gabon)
Raleigh, North Carolina 

Mr. Patrick Alain Ambamani
Community Activist, Suitland, Maryland

Mr. Landry Washington
Community Activist, Miami, Florida

Contact & Correspondence
Bongo Doit Partir, Inc.
P.O. Box 3216 TCB
West Orange, NJ 07052, USA
Tel/Fax : 973-447-9763
http://ww.bdpgabon.org
---
SUR LE MÊME SUJET
Communiqué de Presse - Plateforme Citoyenne – le 31 juillet 2011 Ayant été choquée par l'information divulguée le 21 juillet 2011 par le Washington Post selon laquelle le dictateur gabonais Ali Bongo Ondimba avait, une fois de plus, dilapidé l'argent du Gabon dans l'achat, à hauteur de 6,5 millions de dollars, de la villa huppée du défunt Ted Kennedy sise au 2416 Tracy Place NW à Washington, DC, la Plateforme Citoyenne, une organisation de Gabonais activistes, appelle la communauté gabonaise et les amis du Gabon résidant dans ce pays à un sit-in de protestation le lundi 22 août prochain à 10h00 ...
Lire l'article
[3]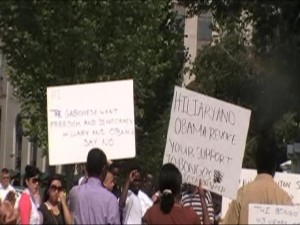 Lors du sit-in prévue devant le Secrétariat d'Etat américain à Washington ce mardi 8 février 2011, des Gabonais vont demander le limogeage d'Eric Benjaminson, Ambassadeur des Etats-Unis au Gabon. Dans une lettre adressée à Hillary Clinton (voir ci-dessous), la communauté gabonaise vivant aux Etats-Unis demande qu'Eric Benjaminson soit relevé de ses fonctions. Les Gabonais reprochent à Monsieur Benjaminson d'avoir annoncé la reconnaissance par les Etats-Unis du régime d'Ali Bongo Ondimba qui, aux yeux des Gabonais, n'a pas de légitimité. La communauté gabonaise des USA demande également par ailleurs la démission d'Ali Bongo. Le sit-in des Gabonais aura lieu à partir ...
Lire l'article
[4]
Conformément au Communiqué du 25 juin 2010, des Gabonais et amis du Gabon résidant aux Etats-Unis ont marché vendredi 16 juillet à Washington devant le Département d'Etat et la Maison Blanche pour condamner le régime Bongo et demander à Hillary Clinton de révoquer et renoncer à ses mots de soutien au dictateur gabonais. Il s'agissait aussi de demander à Hillary Clinton et à Barack Obama de ne plus rencontrer le dictateur gabonais, et encore moins l'inviter à la Maison Blanche ou à des fonctions officielles pour quelque raison que ce soit. Gage du succès de la manifestation, les organisateurs ont d'ores ...
Lire l'article
[5]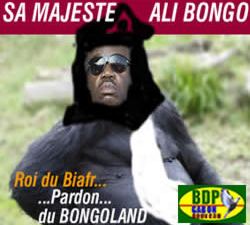 Dans le cadre de la marche des Gabonais à Washington, et conformément au Communiqué du 25 juin 2010, le programme suivant est établi à l'attention des Gabonais et amis du Gabon souhaitant se rendre à la marche. A titre de rappel, cette marche est une marche de Gabonais et amis du Gabon de tous bords souhaitant un changement immédiat au Gabon et la fin de la dictature et de l'emprise des Bongo sur le pays. A ce titre, et comme annoncé dans le Communiqué du 25 juin, nous marchons pour: Dénoncer la réception dont Madame Hilary Clinton, Secrétaire d'Etat américaine, a honoré Ali Bongo lors ...
Lire l'article
[6]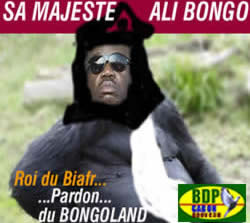 Dans une avalanche de lettres adressées le 1er juillet à diverses personnalités américaines, dont Barack Obama, président des Etats-Unis, Carl Levin, le Sénateur qui coiffe le puissant Comité du Sénat américain sur les investigations qui avait dans plusieurs rapports inculpé les Bongo pour détournements de deniers publics, de corruption et d'enrichissement illicite, Nancy Pelosi, Présidente de la Chambre des Représentants (sorte d'Assemblée nationale des Etats-Unis) et bien d'autres, des Gabonais demandent le retrait par la Secrétaire d'Etat américaine, Hillary Clinton, de ses mots de soutien au dictateur gabonais Ali Bongo. Ces lettres à Obama et autres personnalités américaines font echo ...
Lire l'article
[7]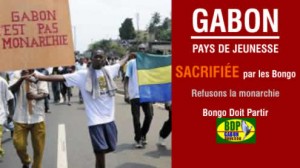 Communiqué de Presse pour diffusion immédiate Pour obtenir le PDF du communiqué, Cliquez ici. Pour voir le programme de la marche, cliquez ici. Chers compatriotes gabonais et amis du Gabon : Lundi 8 mars 2010, en marge de la session du Conseil de Sécurité des Nations Unies dont le Gabon allait assurer la Présidence au mois de mars, Madame Hillary Clinton, Secrétaire d'Etat américain, scandalisait les Gabonais et observateurs du Gabon en déclarant : qu'elle soutient « les efforts entrepris par le Gabon pour diversifier son économie, élargir son cercle de prospérité et créer de nouvelles possibilités pour sa population » ; qu'elle voit en Ali Bongo quelqu'un qui, comme elle-même, ...
Lire l'article
[8]
Le président de la République, Ali Bongo Ondimba, qui est arrivé hier à Washington, a aussitôt été reçu par la secrétaire d'Etat américain Hillary Clinton, avec, au menu de cette entrevue, des questions de coopération bilatérales mais aussi celles ayant trait à la présidence gabonaise du conseil de sécurité. Le président de la République, Ali Bongo Ondimba, a quitté New York hier pour Washington, où il est arrivé aux environs de 13 heures locales (19 heures au Gabon). En compagnie des ministres des Affaires étrangères, Paul Toungui, et de la Communication et de l'Economie numérique Laure Olga Gondjout, le chef de ...
Lire l'article
[9]
Dans une lettre à Hillary Clinton diffusée ce dimanche 7 mars 2010, le Dr. Daniel Mengara, Président du mouvement "Bongo Doit Partir", appelle la secrétaire d'Etat américaine à ne pas rencontrer Ali Bongo Ondimnba lors de la visite du dictateur gabonais aux Etats-Unis depuis vendredi. Communiqué de presse pour diffusion immédiate Ci-dessous la lettre en anglais du Dr. Daniel Mengara. La version PDF est disponible ce lien.   BONGO DOIT PARTIR Office of the President   Hillary Rodham Clinton Secretary of State U.S. Department of State 2201 C Street NW Washington, DC 20520 Sunday, March 7, 2010 Re: Urgent Call to Cancel Meeting with Ali Bongo Ondimba Dear Mrs. Secretary of State: Having become ...
Lire l'article
[10]
Comme cela avait été annoncé au cours des derniers jours, la sénatrice de New York, Hillary Clinton, a profité d'un rassemblement, jeudi 7 juin à Washington, pour mettre un terme à sa campagne pour l'investiture démocrate à l'élection présidentielle et apporter son "plein soutien" à son ancien rival Barack Obama en vue du scrutin de novembre. Devant ses partisans et amis rassemblés au National Building Museum de Washington, Mme Clinton a déclaré qu'il était désormais temps de "mettre notre énergie, notre passion et nos forces pour faire tout ce que nous pouvons pour faire élire Barack Obama, le futur président des ...
Lire l'article
[11]
La sénatrice démocrate Hillary Clinton va apporter son soutien à Barack Obama en vue de l'élection présidentielle de novembre et appeler à l'unité du Parti démocrate contre le républicain John McCain vendredi 6 juin, a annoncé, mercredi, son équipe de campagne, dans un communiqué. "La sénatrice Clinton organisera vendredi à Washington une réunion au cours de laquelle elle remerciera ses partisans et apportera son soutien au sénateur Barack Obama ainsi qu'à l'unité du parti", indique le texte. Cette déclaration ne précise pas si Mme Clinton mettra formellement un terme à sa campagne ou suspendra seulement ses activités, mais semble confirmer que ...
Lire l'article
[12]
Manifestation des Gabonais des Etats-Unis à Washington le 22 août 2011 contre l'achat de la propriété des Kennedy par le dictateur Ali Bongo
Manifestation: Des Gabonais demandent le limogeage de l'ambassadeur des USA au Gabon
Manifestation des Gabonais à Washington: Rapport, Photos et Vidéos de la marche
Programme de la Marche des Gabonais à Washington ce vendredi 16 juillet à 10h00
Manifestation du 16 juillet à Washington: Des Gabonais écrivent à Barack Obama et autres personnalités américaines, demandent le retrait du soutien au dictateur gabonais
Communiqué : Grande Marche et Manifestation des Gabonais à Washington le vendredi 16 juillet 2010
Gabon-USA : Ali Bongo Ondimba s'entretient avec Hillary Clinton
Communiqué: Le Dr. Daniel Mengara appelle Hillary Clinton à ne pas recevoir Ali Bongo Ondimba
Hillary Clinton met un terme à sa campagne et apporte son soutien à Barack Obama
Hillary Clinton va soutenir Barack Obama